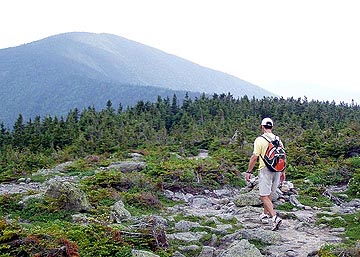 Carter Dome Dayhike - 26/Jun/2003
My brother was in town from Florida, and I decided to show him around the mountains of NH. He's now officially a flatlander, but since he's a marathon runner I didn't think a dayhike up Carter Dome would be much of a problem. Alas, to my dismay, I was right, and he kicked my ass. Accepting your limitations is half the battle. We stayed up in Gorham and drove to the 19 Mile Brook trailhead after a nice breakfast at the Loaf Around. Al only had his running shoes so I didn't want to try something with lots of rock. This seemed to fit the bill perfectly.
We hiked together for a long while, talking and seeing only a few people on this Friday morning. After the junction with the Carter Dome trail I spent a good deal of time taking pictures of wildflowers and since he was faster than me anyways I told him to wait for me at Zeta Pass. Eventually I caught up and we took a bit of a water break. It was hazy, hot, and humid, so for a Florida runner it felt like a normal day. I was taking it slow and easy, and drinking lots of water. I had another hike the next day so I was in no rush. We headed up Mt Hight and I finally caught up to him on the summit, as he was checking his cell phone reception. For the record, it was 2 bars. It was pretty hazy up top, but the views were still worth it. I, of course, took more wildflower photos.





Finally we headed off for Carter Dome and Al's first 4000'er. I'm much better at ridgewalking than steady climbing and we managed to stay together for the whole way. The summit of Carter Dome is rather underwhelming but we chose it for our posed timer shot. We hung around there for a while, it was still quite early and it was slightly cooler up high than it was down low. We finally packed up and headed out north. Back at the junction with the Mt Hight Loop I wanted a picture of Al next to the sign for a comparison. We pretty much took it straight down from there with a pause at Zeta Pass and once at the nice stream crossing just below the switchbacks. From there it was an easy hike out and a fine couple of beers by the pool.
---