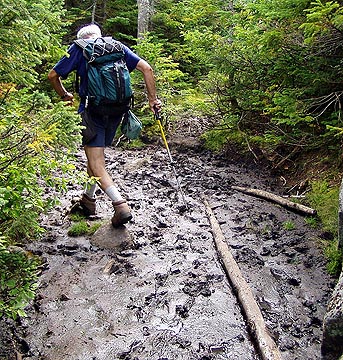 Hancocks Loop - 28/Aug/2004
Mohamed and I were planning a hike this weekend and we had originally thought about Kinsman Ridge from the west. Instead we settled on this shorter route with steeper section as a good test of fitness. We met at the Hancock Overlook on the Kanc and started quickly on the Hancock Notch trail, making good time. The stream crossings were quite easy, there are six of them. We saw a few folks headed out already, either overnighters or people who got out very early that morning. After our first break at the loop junction we decided to go clockwise because if you go counterclockwise there's a slight climb to get back to the junction. That climb is worse after the big descent.
Up we went commenting on the bad erosion evident on this section. We met a couple coming down and took a well earned rest while talking about websites. We reached the top of North Hancock and headed to the view for our first lunch. After a short break we headed across the ridge to South Peak. This is a beautiful ridge walk, through verdant green terrain and occasional fir waves.


Just before the south peak there are some nice views of Carrigain's firetower and the approach from Signal Ridge. The South Peak view is somewhat underwhelming but is a little nicer in good weather. We had our second lunch on the south summit and explored the warren of little trails and campsites that you should really avoid. The steep descent was, well, steep, but we had a nice trip out talking with a few other hikers headed out at our pace.
---