Southern Presidentials Trip - 4/Oct/97
More 4000'ers! The weekend before Columus Day was shaping up to be peak leaf peeping season so off the mountains we went. A group of friends was staying in a condo in North Woodstock and was planning on hiking the Franconia Ridge, a repeat of last year's trip. Brenda and I elected for the southern Presidentials instead. We headed out early, dropping one car in Crawford Notch and on to the trailhead for the Ammonoosuc Ravine trail, just before the basestation for the Cog RR. We were on the trail before 10:00 AM.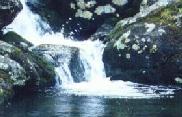 The first hour of the trip was uneventful, until we got close to Gem Pool. From there, the trail climbs much more steeply, and there was now steady snow and ice cover. About .5 miles from there, we crossed the icy stream. There were some views down from here, our last real views of the trip. By now there was about a dozen folks all hiking in a clump; passing was difficult especially when many of them were wearing sneakers. We reached Lakes of the Clouds Hut and buttoned up. There was snow everywhere, visibilty was down to about 100 feet, the the wind had picked up considerably. We wolfed down a bit of food and water, and headed up Monroe.

The hiking was pretty easy, considering there were 1 foot deep drifts. It was light snow, and we had the right clothes for the trip. After hitting the top of Monroe we lost the trail for about 10 minutes. We stood at one cairn and wandered about looking for the next. Visibility had dropped to 25 feet and we were looking in the wrong direction, so it took us a while to find the trail. Then we continued on south, running into several large groups, all enjoying the lack of views. At the Edmonds Path junction we stopped for a cold lunch, then quickly packed up and headed for the summit. When we got to the top there were a bunch of folks there, but they soon left us alone on the summit. We didn't stay long either, heading down to the Crawford Path and continued our trip south. In one group we ran into, someone recognized me from our Dartmouth reunion last year. It never fails. We walked past the summit of Clinton/Pierce without even noticing and then down to Mizpah Springs Hut to warm up. I took photos of the main room and kitchen, as well as the Nauman Campsite. The final 2.5 miles was easy, with the yellow birch leaves finally showing through in the late afternoon sun. Not many views, but a wonderful hike.
---